News:
Mid-America Ford Meet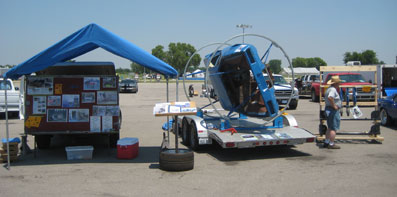 June 26th-28th we attended the Mid-American Shelby Meet in Tulsa, OKlahoma. Although it was a blazing 103° on Saturday at Tulsa Raceway Park, many Ford and Shelby enthusiasts we able to experience the Roller Hoop first-hand. The event was highlighted by Carroll Shelby as a guest speaker at the banquet, and the car show on Sunday was fantastic.
Mustang 45th Anniversary Celebration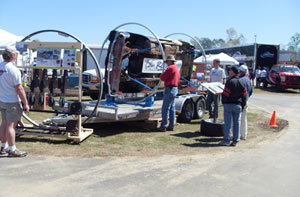 We displayed the Roller Hoop with a rusty convertible Mustang at the Mustang 45th Anniversary Celebration at Barber Motorsports Park in Birmingham, Alabama, April 16-19th. We received a tremendous amount of response and recognition from Mustangers from around the world. We were amazed at how many people had seen us mentioned in the magazines.
ARMO's Best New Resto Product of the Year Award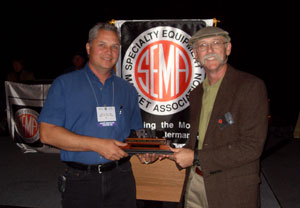 We at DSK Auto Products, LLC are proud to announce that our new product the Roller Hoop Auto Rotisserie has won the best new resto product of the year award from ARMO (Automotive Restoration Market Organization). Dennis Gage host of "My Classic Car" presented the award to Doug Kielian at the awards banquet during the 2008 SEMA show in Las Vegas. We entered the Roller Hoop in ARMO's new product competition at the 2008 Spring Carlisle Event in Carlisle, Pennsylvania.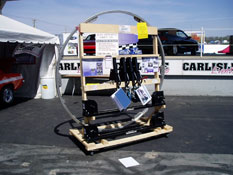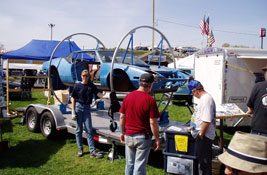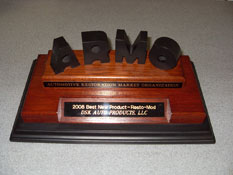 Events and Swap Meets Across the Country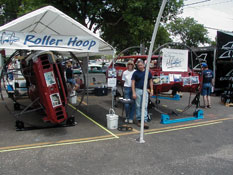 The Roller Hoop has been seen at events and swap meets across the country from our home in Lincoln, Nebraska where we first introduced the Roller Hoop during Americruise 2007, to the Pomona and Long Beach Swap Meets in Los Angeles. We have also participated in the 07' Iola Swap Meet in Wisconsin, and the 2008 All Ford Event in Carlisle, PA, as well as many other car shows and swap meets in the midwest.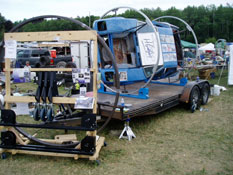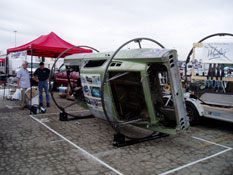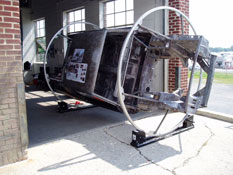 Legendary Machinist Steele Therkleson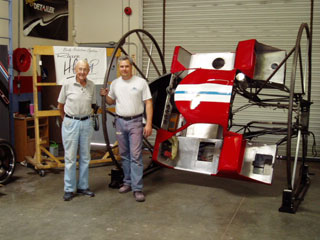 Steele Therkleson says "Doug Kielian's Roller Hoop is a marvelously clever idea". Steele is seen here with Doug while performing restoration work on a vintage Ferrari 512M race car at Tiger Raging in Covina, California. Steele was an ace machinist/mechanic on the winning GT40 Shelby American teams in 66'-67'. Steele has also fabricated the driver hand controls designed by Tom Hollfelder and used by Carol Hollfelder in her Tiger Racing World Challenge car.